Free Service, Register Now
No obligation • Nothing to pay • Free Trial​
Example of SMS in action: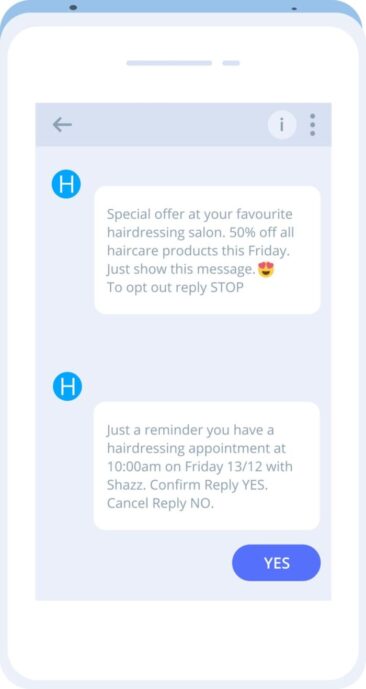 Marketing SMS
SMS Marketing is when businesses spread permission-based (Opt in) promotional messages by text. Examples of SMS Marketing are a restaurant promoting 50% off main meals on a specific night. A fashion store inviting you to a VIP night, a gym letting you know a new class is available. Most SMS Marketing is done via dashboard in the form of bulk SMS. All SMS Marketing messages must have an Opt-out function at the end of the message. Generally in the form of 'Reply STOP'.
Transactional SMS
Transactional SMS is generally all business text messages that aren't marketing or promotional. They are functional or informational text messages. About a product or service that a customer has engaged with. Examples of Transactional SMS are a dentist surgery reminding you of an appointment. An auto center reminding you your car is due for a service. A delivery service saying a parcel is out for delivery.
Transactional SMS messages can be consistent in their content and done at scale. So businesses will generally use an SMS Gateway API to automate the process. Transactional SMS messages are not required to have an opt-out message.
How to get started ?
Seven Steps only,
1. Create your free account
2. Add some credit
3. Add users (optional)
4. Upload contacts (optional)
5. Choose a number (optional)
6. Create your API Key (optional)
7. Start Sending
What is the difference between SMS and MMS?
A text message of up to 160 characters without an attached file is known as an SMS, while a text that includes a file—like a picture, video, emoji, or a website link—becomes an MMS.
What's the difference between transactional email and email marketing?
Email Marketing
Our Email Marketing platform allows you to create email templates with our drop and drag email editor. You can schedule campaigns using our dashboard. Once a campaign is sent, you can view statistics on our dashboard.
Opt outs and bounces are automatically handled.
Transactional Email
Our transactional email system is better for non-marketing related content e.g. notifications, alerts, receipts etc.
Opt outs aren't automatically handled. Bounces can be passed back to you via a webhook or you can poll our API periodically.
There are two ways to send:
API: Using our transactional email API.
SMTP: Send email using the standard SMTP email protocol.
What is SMS Text-To-Speech?
In certain situations businesses need to send messages that are received as voice calls. Instead of the recipient receiving an SMS, the text is converted to speech. The recipient's phone is called, and when answered, the SMS is spoken out.
For what i can use Text to Speech voice call ?
Reach thousands of people by Text To Speech instantly on any phone (mobile or landline); no waiting for free lines, no dialing, no handset required.
Text To Speech voice messages are perfect for:
Emergency notification systems
Quickly alert people when storms, fires or wild weather are in the vicinity.
Delivery notifications
Automate your tracking and delivery notifications and send them by phone call.
Two-factor authentication (2FA)
Send automated voice calls to validate customer identity.
Appointment reminders
Reduce no-shows, save time and money by ensuring your clients remember their appointments.
What is Email to SMS?
Email to SMS is software which allows you to turn an email into a text message without any extra effort. Once registered with us, simply write your email and send your message to mobile-number@sms.send.com. Your message will be converted from email to SMS and replies can be directed back to your email inbox, or as an SMS.
Will I have a direct point of contact?
Absolutely. you can provide ongoing feedback on how we are doing with direct point of contact.
Is there any monthly or yearly fees?
No monthly or yearly fees, all accounts are pre-paid. When you make a recharge from your account you are purchasing credit that will be applied to your system balance.
Can I add multiple sub accounts to my main account?
Sure! If you're account type is pre-paid, they will all share the same balance. and you can check their spending from your main admin account.
it is possible to Schedule a Quick SMS or SMS Campaign ?
Of course, when scheduling your SMS it is important to ensure you are scheduling your message in the right time zone.
By default, we use your computer's local timezone. You can check/adjust your timezone setting.
To schedule your SMS, this can be done in a few easy steps.
There is a free trail to test the system?
Absolutely, free account with free credits to test all services available.
Can i send SMS to any country?
Yes indeed, you can send SMS, MMS, Voice Calls, Faxs to any country.
What is the main benefits our system?
Alerts & Notifications
Get your message out to thousands of people instantly for convenience, welfare, and safety.
Authentication & Security
Protect your customers with 2 Factor Authentication (2FA) and One Time Passwords (OTP).
Billing & Invoicing
Get paid on time every time by ensuring your suppliers and clients are aware of their invoice dates.
Birthday Marketing
Surprise and delight your customers with personalized birthday messages and promotions.
Customer Support
Exceed customer expectations with text message support functionality.
Event Management
Draw in record numbers to your events by adding text message marketing to your mix.
People Management
Simplify your human resourcing communications by sending text messages internally and externally.
Marketing & Lead Management
Use custom fields to personalise lead nuturing communications for your existing and future clients.
Ordering & Delivery
Keep suppliers and clients in the loop by automating order and delivery communications.
Reminders
Reminder text messages are brilliant for minimizing no-shows and saving you time and money.
Sales Automation
Save hours on customer communications by automating your text messages.
What Industries can use this system?
Automotive
Banking & Finance
Beauty & Hair
Call Centres
Competitions & Polls
eCommerce
Education
Emergency Services
Government
Healthcare
Human Resources
Information Technology
Insurance
Manufacturing
Marketing
Real Estate
Restaurants & Bars
Retail
Sport & Fitness
Telecommunications
Transport & Logistics
Travel & Hotels
Utilities
To know more about each industry and the best practice, please write to us on info@omnipro-bh.com to get more details
Do you support non-english characters?
Yes, we support any characters with utf-8 character encoding. You can use any characters you want in all parts of our system (API, dashboard etc.).
To enable this on your account:
login to your account dashboard
Go to SMS -> Settings -> Unicode SMS settings
Select 'Autodetect'
Click save
With Unicode SMS enabled, you can send using any language e.g. Arabic, Chinese, Korean, Japanese, Spanish, Portuguese, Turkish, Urdu, Hindi, Bengali, Punjabi, Gujarati, Oriya, Tamil, Telugu, Kannada, Malayalam.
What about Security & Compliance?
Security
As partner with major supplier/provider, We have thousands of security-sensitive government, health and financial clients around the world.
Platform security
Designed for security
Our Solution is cloud infrastructure is housed in secure data centers, designed to satisfy the requirements of our most security-sensitive customers. The system infrastructure has been designed to provide the highest availability while putting strong safeguards in place regarding customer privacy and segregation.
Constantly monitored
The infrastructure is protected by extensive network and security monitoring systems.. In addition, infrastructure components are continuously scanned and tested. The production network is segregated from our partner corporate network, and access to this network is monitored and reviewed on a daily basis by the security managers. The production network is segregated from the main corporate network and requires a separate set of credentials for access, consisting of SSH public-key authentication through a bastion host using an MFA token. This access is monitored and reviewed on a daily basis by the security managers.
Highly automated
These security tools are built to provide maximum protection for your data and applications. This means the security experts spend less time on routine tasks, and are able to focus more on proactive measures that can increase the security of your Cloud environment.
Highly available
The System designs its data centers with significant excess bandwidth connections so that if a major disruption occurs there is sufficient capacity to enable traffic to be load-balanced to the remaining sites, minimizing the impact on you.
Highly accredited
To help you meet specific government, industry, and company security standards and regulations, We provides certification reports that describe how the Cloud infrastructure meets the requirements of an extensive list of global security standards, including: ISO 27001, SOC, the PCI Data Security Standard, FedRAMP, the Australian Signals Directorate (ASD) Information Security Manual, and the Singapore Multi-Tier Cloud Security Standard (MTCS SS 584). For more information about the security regulations and standards with which We and our partner complies, see our Compliance webpage.
Security features
Network security
The system provides several security capabilities and services to increase privacy and control network access. These include:
Built-in firewalls allow us to control network access to our server instances and subnets
Encryption in transit with TLS
De-identify message body
On request, we can de-identify the body of messages to satisfy your strict security and compliance requirements.
Access control
The System offers you capabilities to define, enforce, and manage user access policies across all services. This includes:
Identity and access management capabilities to define individual user accounts with permissions across the system resources
Multi-factor authentication for highly privileged accounts, including options for hardware-based authenticators
Integration and federation with corporate directories to reduce administrative overhead and improve end-user experience
The system provides native identity and access management integration across many of its services plus API integration with any of your own applications or services.
Monitoring and logging
System provides tools and features that enable you to see exactly what's happening in your current environment. This includes:
Deep visibility into API calls, including who, what, who, and from where calls were made
Log aggregation options, streamlining investigations and compliance reporting
Alert notifications when specific events occur or thresholds are exceeded
These tools and features give you the visibility you need to spot issues before they impact the business and allow you to improve security posture, and reduce the risk profile, of your environment.
Compliance
Assurance programs
Our Partner and we, don't have any major accreditations, however, our data centre vendor (AWS) is accredited with the following assurance programs/standards:
PCI DSS Level 1
SOC 1/ ISAE 3402
SOC 2
SOC 3
IRAP (Australia)
ISO 9001
ISO 27001
MTCS Tier 3 Certification
FERPA
ITAR
Section 508 / VPAT
FedRAMP (SM)
DIACAP and FISMA
NIST
CJIS
FIPS 140-2
DoD CSM Levels 1-2, 3-5
G-Cloud
IT – Grundschutz
MPAA
CSA
Cyber Essentials Plus
Regulation 2016/679 of the European Parliament
About our System?
The System is a cloud-based gateway service for your business that lets you send bulk SMS, MMS, fax & letters worldwide provided through trusted partner to cover worldwide.
Is my account secure?
Your admin account is 100% secure, and no one else has access to your account and data. therefore we advise to not share your admin account with anyone. Also you can create a subaccounts for your employees and give them limited access.